Description
The Gulf Beach Half Marathon is the most gorgeous and FLATTEST Half Marathon in Connecticut! 
​
USATF Certified Half Marathon CT19028JHP
Voted one of ACTIVE.COM's "HALF MARATHONS TO DO".
Run along the beautiful beaches of Milford featuring the Silver Sands State Park Boardwalk. This is a PR Course like no other. Join us for our 10th Annual. There is day-before registration and packet pick-up PLUS race-day registration and packet pick-up for pre-registered entrants and race-day entry. Register now and close out Summer with the best race in Connecticut!
Official Facebook Race Page 
Check the photos, the feedback and the BUZZ surrounding the race and RSVP while you are there. 
Details 

Aid Stations stocked with Poland Spring Water, Gatorade and GU at Miles 2.75, 4.75, 6.75, 8.75 and 10.75.

Custom Finisher Medals.

Men's and Women's cut Short Sleeve Tech T-Shirts.

Exact timing using "transponder on the bib" at the start, half-way and finish.  Net time and gun time. 
There is a Mile 6.65 (Half way) timing split too.
Results emailed that day. Grab your "Race Receipt" when you finish with all of your stats and see if you won an award

Custom Awards for overall top 3 men and women as well as top 3 men and women in all 5-year age groups up to 70+.  10-14, 15-19, 20-24, 25-29, 30-34, 35-39, 40-44, 45-49, 50-54, 55-59, 60-64, 65-69 and 70+. Get your award immediately with your Finisher Receipt.  If it says Top 3 just go to the award table.  No need to wait around! 

Professional photography by J Macht Photography

Plenty of Porto-Lets and REAL BATHROOMS!

The race will start PROMPTLY at 7am!
PLEASE NOTE THAT WE ARE STARTING AT 7AM THIS YEAR TO AVOID THE HEAT!
9/18/2021 Race-Day Registration and Packet Pick-up 
Race Day registration and packet pick-up will be at the race start/finish from 6:00am-6:45am: Gulf Beach Recreation Area 550 Gulf St. Milford, CT. 06460. Make sure you arrive with PLENTY of time to get your packet with your bib. The race will start at 7:00am promptly.


Schedule 

6:00am: Race-Day Registration and Packet pick-up Starts 
6:45am: Registration and Packet Pickup Closes 
7:00am: Half Marathon Starts 
8:15am: First Finishers 
10:30am: Final Finishers
11:00pm: Race Venue Closed 

Pricing Structure:




10/24/2019 - 3/14/2020 $65
3/15/2020 - 9/15/2021 $70
In-Personon Race Day:  $75
Cash, Check and Venmo only. NO CARDS
3:30 Half Marathon Time Limit.  This is a 16 minute per mile pace.  
*We may be able to accomodate 30 minute early starts.  Please email [email protected]
You may TRANSFER your registration to another athlete until 8/18/2021 for $10. This is done by YOU.  Log in to your Active.com account and follow the directions. No need to email us.
You may DEFER your entry to the 2022 Gulf Beach Half Marathon until 8/18/2021 for $10. You do this by emailing [email protected] You will show up on race-day in 2022 and fill out an application and $10 will be due.
All deferrals and transfers are final.
NO REFUNDS & NO EXCEPTIONS FOR ANY REASON AT ALL.
DO NOT EMAIL ASKING FOR AN EXCEPTION PLEASE.
**The Gulf Beach Half Marathon is Race 2 in the Shoreline Sharks Streaker Series.  Athletes who finish the Hamden Hills Half Marathon (5/22/2021) PLUS the Gulf Beach Half Marathon (9/18/2021) PLUS the Savin Rock Marathon OR Half Marathon (10/30/2021) will receive a custom Race Series Hoodie FREE! You can register on-line or in-person, it does not matter. Finish all 3 and you get the hoodie!
Register for the 2021 3-Half Marathon Series and save 15% EXPIRED
Parking
We have the permit to park in the Resident Only lots for the day.  There are 300 spots there at the venue.  There are hundreds more spots on side streets that are legal and within 1/4 of a mile.  Please do not park where it is prohibited!  You risk being ticketed and towed. MAP: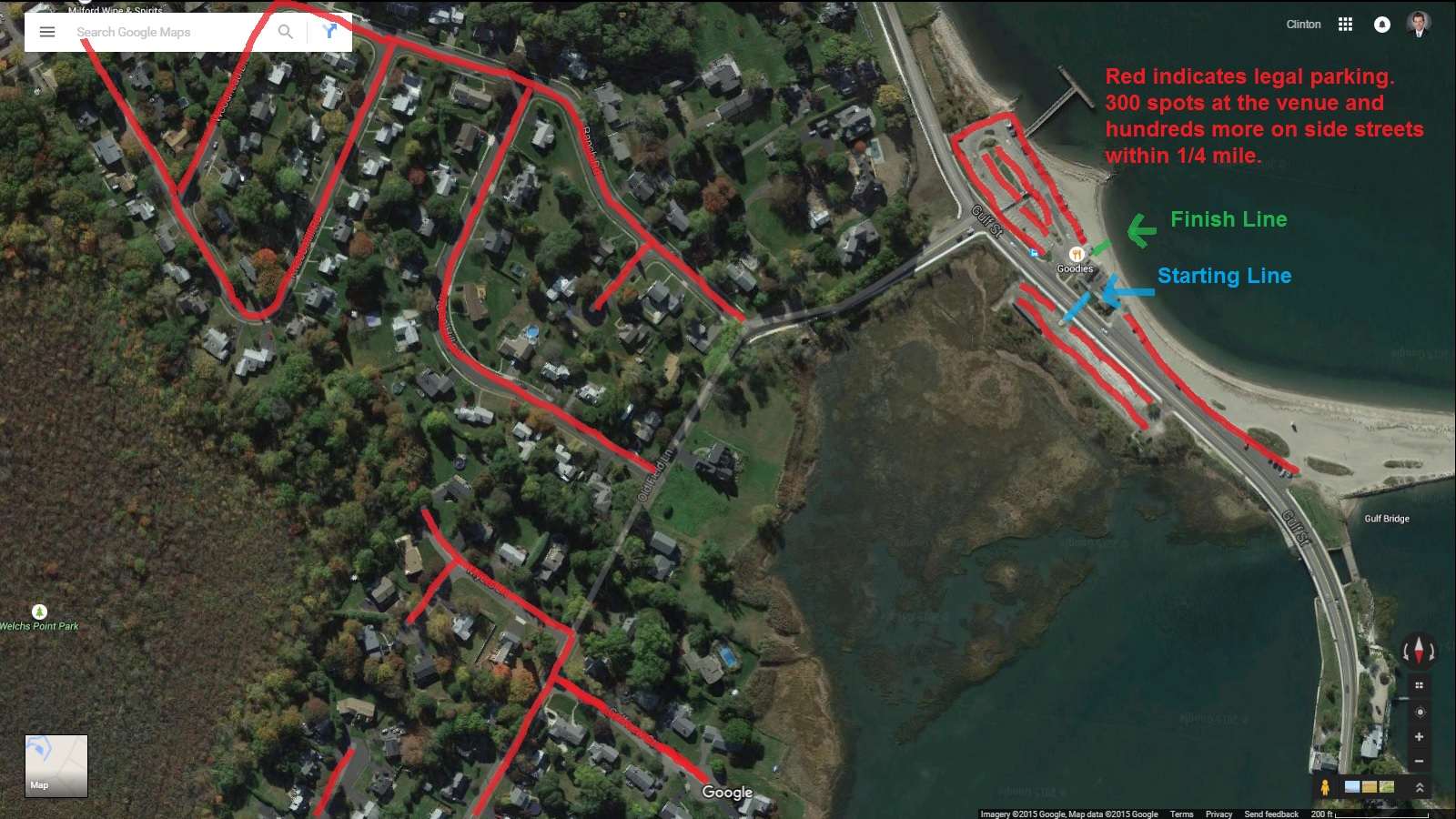 Directions 


From the South: Take RT 95N to Exit 39A. Go Right off Exit and bare LEFT on CHERRY St. Follow Cherry about a mile to Gulf St. Take a LEFT on Gulf Street and follow to Gulf Beach. From the North: Take 95S to Exit 39A. Exit will merge you onto RT 1. Bare left at the fork to Cherry St. Follow Cherry Street about a mile to Gulf St. Take a LEFT on Gulf St and follow to Gulf Beach.
Event details and schedule
TRAVEL AND HOTEL ACCOMMODATIONS:
Air Travel
Milford, Connecticut can be accessed easily from Bradley International Airport in Windsor Locks, CT. (64 Miles away) as well as JFK International Airport (71 miles away) and LaGuardia International Airport, (65 miles away) both in Queens, NY.  Bradley will be MUCH easier to fly through and travel to and from the race venue, but the tickets may be more expensive.
Hotels
The best and closest (2 miles from the venue) hotels to stay in for the Gulf Beach Half Marathon are:
Hilton Garden Inn
291 Old Gate Ln. Milford, CT. 06460
Phone (203) 783-9988
Hyatt Place
190 Old Gate Ln. Milford, CT. 06460
Phone (203) 877-9800